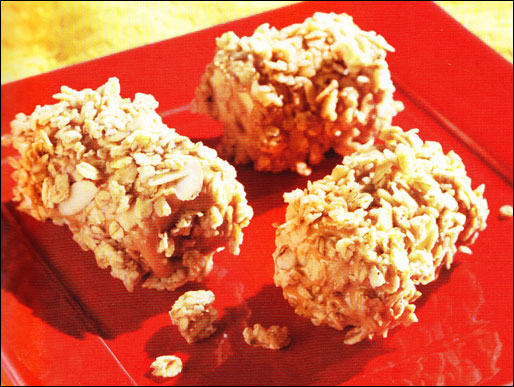 This is a simple dish that kids can help make. It can be served at breakfast, lunch, or dinner. Tools you will need include a spoon, baking dish, mixing bowl, and an oven.
Ingredients:
Shortening
1 egg
4 ounces of cheddar cheese
8 ounce muffin mix
1 small package of sausage links
1 can corn
Preparation:
1 Preheat the oven to 400 degrees.
2 Grease baking dish with shortening.
3 Mix the egg, corn, and 2 ounces of the cheddar cheese in the mixing bowl (mix it well).
4 Add muffin mix into mixing bowl and mix it well to form a batter.
5 Spoon the batter into the baking dish.
6 Arrange the sausage links on top of the batter.
7 Bake for 30 minutes.
8 Remove from oven and sprinkle cheese on top.
9 Let it stand for about 5 minutes, cut into squares, and serve.
This is such an easy recipe and such fun for our kids. I have substituted many different things in this recipe to change things up. Here is an example. One day I changed the muffin mix and used pancake mix instead. Then I used some strawberries instead of the sausage links. I left out the cheese and corn, added some water to make the batter and sprayed some wiped cream on each strawberry just before serving. It was fun and the kids loved it. When substituting ingredients keep in mind that trial and error will be your friend here. I have thrown out a few batches in my time because they didn't cook right or just didn't taste good. I can tell you that if you take this as a guide to making a simple dish and then let your imagination go you can find many fun and exciting dishes that don't take long to make and can turn out simply marvelous. If you like something other then corn just sub in something you do like. Just keep in mind if you want Tadpole in a hole this is the correct way to make it. Subbing in other stuff will give you something you may need to name yourself. Also keep in mind that baking time will change depending on the ingredients. You may end up with black mess with smoky kitchen. Use common sense when trying new things or simply find other recipes people have tried. I on the other hand like the great unknown world of cooking that make for very happy eating or the strangest looks of what the heck were you thinking from the family. Happy cooking and eating to you.
Reference:
1. 10 Quick and Easy Breakfast Dishes | Real Simple
2. Healthy Breakfast Ideas: 34 Simple Meals for Busy Mornings | Greatist